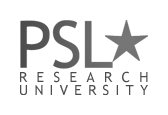 Prochaines soutenances
2017-06-27 : Michele Mancarella (IPHT)


Tests de cohérence de l'Univers et reliques cosmiques




À : Institut de Physique Théorique Orme des Merisiers batiment 774 Point courrier 136 CEA/DSM/IPhT, CEA/Saclay F-91191 Gif-sur-Yvette Cedex , à 14:30

2017-06-28 : Elisa Riccardi (MPQ)


Spectroscopie Raman du graphène




À : UPD, bâtiment Condorcet, salle 454A , à 14:00

2017-06-28 : Grégoire Martinon (LUTH)


Systèmes gravitationnels en espace-temps assympotiquement anti de Sitter




À : Observatoire de Meudon 5 place Jules Janssen Bâtiment 18 amphithéâtre , à 14:00

2017-06-28 : Samar Hodeib (LPS-ENS)


Résolution en temps réel des G-quadruplexes d'ADN par les hélicases et les polymérases




À : Salle Conf IV - Ecole normale supérieure - 24, Rue Lhomond 75005 Paris , à 14:00

G-quadruplex (G4) structures are considered as the major impediments for the replisome progression. The putative G4 forming sequences in the human genome are mostly located in the double-stranded DNA regions of oncogenes and proto-oncogenes and on the single-stranded overhangs of telomeres. Most of the biochemical and biophysical studies have characterized the G4 thermodynamics properties using melting temperature Tm as a proxy to infer thermodynamics of G4 folding/unfolding energetic. However, these thermodynamics properties give only indirect information about G4 dynamics. In this work, using single molecule magnetic tweezers technique, we first characterize the kinetics of folding and unfolding and thus the stability of a single G4 inserted in a dsDNA: a situation that mimics the G4s in promoters, where the complementary sequence competes with the G-rich structure. We find that the lifetime of telomeric G4 is short (~20 s) and thus that this G4 unfolds without the need of a helicase. This is not the case for the very stable c-MYC G4 (~2 hr). We observe in real time how helicases or polymerases behave as they collide with the c-MYC G4 on their track. We find that the Pif1 helicase unwinds dsDNA, resolves this G4 after pausing and resume unwinding, while RecQ helicase and the bacteriophage T4 replicative helicase do not resolve the G4 but may jump it. We also find that RPA does not unfold the c-MYC G4. Besides, we find that T4 bacteriophage gp43 polymerase, T7 polymerase and Yeast Pol ε can replicate the G4 which surprisingly does not appear as a major roadblock for them.

2017-06-29 : Venkatesan Dhanasekaran (MPQ)


Nanoparticules Au-Pd déposées sur oxyde pour la réaction d'oxydation du CO




À : Synchroton SOLEIL Grand Amphi-L'Orme des Merisiers Saint-Aubin à Gif-sur-Yvette , à 14:00

2017-06-30 : Matthieu Santin (SPEC)


Quantum dynamics of ballistic coherent conductors: Quantum switch and Photo-assisted transport




À : CEA Saclay, Orme des Merisiers, Amphi Bloch , à 10:30

The study of dynamic electronic transport in ballistic coherent conductor is required for the implementation of electron quantum optics experiments or the quantum computation by using "flying qu-bits". The first step is to be able to inject in the quantum Hall effect a single electron without any additional excitations in the conductor: a Leviton, whose remarkable properties have been experimentally observed without magnetic field [1], and to control its trajectory thanks to a quantum switch. During this thesis, we confirmed the possibility to implement a leviton in the quantum Hall effect, by demonstrating the validity of the photo-assisted shot-noise theory in this regime: we use a sine excitation which is simpler to implement than a lorentzian excitation required for Levitons. We also studied a new effect described by the photo-assisted theory: a quantum switch, which is the sudden closing and opening of an elementary channel of conduction. This generates an intrinsic charge noise [2] that we have evidenced and enable us to answer the general question: "What are the effects of a spatial separation of the Fermi sea?". Furthermore, this charge noise provides a theoretical measurement of the entanglement entropy. [1] J. Dubois, T. Jullien, F. Portier, P. Roche, A. Cavanna, Y. Jin, W. Wegscheider, P. Roulleau, and D. C. Glattli. minimal-excitation states for electron quantum optics using levitons. Nature, 502(7473), October 2013. [2] Israel Klich and Leonid Levitov, Phys. Rev. Lett. 102, 100502 (2009)

2017-07-03 : Arthur Marguerite (LPA)


Two-particle interferometry for quantum signal processing.




À : ENS, 29 rue d'Ulm 75005 Paris, salle Jean Jaures , à 14:00

Cette thèse est dédiée à l'analyse de signaux électriques quantiques dans les canaux de bords de l'effet Hall quantique. En particulier, j'ai utilisé l'analogue électronique de l'interféromètre de Hong, Ou et Mandel pour réaliser des expériences d'interférométrie à 2 particules. En entrée de l'interféromètre sont placées des sources d'électrons uniques qui permettent l'injection contrôlée d'excitation ne contenant qu'une seule particule. Les canaux de bords guident ces excitations jusqu'à l'interféromètre. Il s'agit d'un contact ponctuel quantique qui agit comme une lame semi-réfléchissante pour les électrons. On mesure en sortie les fluctuations basse fréquence du courant. Cela nous permet de mesurer le recouvrement entre les fonctions d'onde à un électron émises à chaque entrée. Grâce à cette mesure de recouvrement, j'ai pu caractériser le rôle des interactions Coulombienne sur la propagation de l'électron unique. J'ai pu montrer que ces interactions étaient la source principale de la décohérence du paquet d'onde mono-électronique et qu'elles décomposent l'électron sur des modes collectifs. C'est une manifestation de la fractionalisation de l'électron qui apparaît dans les systèmes uni-dimensionnel en interactions. Grâce à cet interféromètre, j'ai pu aussi implémenter un protocole de tomographie qui permet de reconstruire toute les informations à une particule de n'importe quel signal émis dans le canal de bord.

2017-07-04 : Nicolas Levernier (LJP)


Temps de premier passage de processus non-markoviens




À : UPMC (Campus Jussieu) Amphi Herpin , à 13:30

Combien de temps met un marcheur confiné à trouver une cible ? Cette question se retrouve dans des domaines extrêmement variés, de la biologie à l'économie en passant par la chimie. Si cette question a trouvé réponse pour les processus markoviens, c'est à dire sans mémoire, très peu de résultats ou de méthodes existent pour étudier les processus non-markoviens. L'objet de cette thèse est de fournir des outils nouveaux pour calculer le temps moyen mis pour trouver la cible, de les appliquer à plusieurs exemples et de déterminer des comportements universels dans la limite grand confinement.

2017-07-04 : Luca Alberto Rizzo (IPHT)


cosmologie des théories de gravité modifiées



2017-07-07 : Alexandre Cameron (LPS-ENS)


Effets de grande échelle en Turbulence




À : Conf IV - ENS - 24 rue Lhomond 75005 Paris , à 14:00

This manuscript describes how solutions of the Navier-Stokes equations behave in the large scales when forced in the small scales. It analyzes also the large scale behavior of magnetic fields solution of the kinetic induction equation when the velocity is in the small scales. The results were acquired with direct numeric simulation (DNS) using pseudo-spectral algorithms of the equations as well as their Floquet development. In the hydrodynamical case, the Floquet DNS were able to confirm the results of the AKA effect at low Reynolds number and extend them for Reynolds number of order one. The DNS were also used to study AKA-stable flows and identified a new instability that can be interpreted as a negative viscosity effect. In the magnetic case, the alpha effect is observe for a range of scale separation exceed know results by several orders of magnitude. It is also shown that the growth rate of the instability becomes independent of the scale separation once the magnetic field is destabilized in its small scales. The energy spectrum and the correlation time of absolute equilibrium solution of the truncated Euler equation are presented. A new regime where the correlation time is governed by helicity is exhibited. These results are also compared with those coming from large scale modes of solutions of the Navier-Stokes equation forced in the small scales. They show that the correlation time increases with the helicity of the flow.

2017-07-12 : Davide Dreon (LKB)


designing and building an ultracold dysprosium experiment: a new framework for light-spin interaction




À : salle 2, bat A Collège de France 11 place Marcelin Berthelot 75005 Paris , à 09:30

In this thesis I present the construction of a new experiment producing ultra cold gases of Dysprosium. Using the favourable electronic structure of open-shell lanthanide atoms, we aim at the realisation of laser-induced synthetic gauge fields, which could lead to the observa- tion of novel (topological) phases of matter. The coupling of the atomic spin with the light field, improved with respect to alkali atoms, opens the possibility to explore strongly interacting regimes that were up to now out of experimental reach. I adapt existing protocols for the implementation of gauge fields to the case of Dysprosium, taking into account its large electronic spin (J = 8 in the ground state). Moreover, Dysprosium has the largest magnetic moment among the stable elements, and is the best candidate for the study of dipolar gases. I describe the experimental setup that we built and how we perform the trapping and cooling of Dysprosium. We study in detail the behaviour of the magneto-optical trap, which is performed on the 1S0 ↔ 3P1 intercombination line. The narrow linewidth and the large spin make the trap operation quite challenging. Nevertheless, I show that its understanding becomes quite simple in the regime where the cloud spontaneously polarises due to the interplay of optical and gravitational forces. Finally I describe the last steps of optical transport and evaporation, which will lead to the production of a degenerate gas.

2017-09-06 : Guillaume Michel (LPS-ENS)


Solid boundaries and surface waves: dissipation, Doppler effect and nonlinear interactions




À : salle Conf IV - Département de Physique, Ecole Normale Supérieure, 24 Rue Lhomond, 75005 Paris , à 14:00

In this thesis, we study the impact of solid boudaries on surface waves. We first consider the dissipation caused by dynamical wetting. We experimentally show how the damping of surface waves evolves with the size of the meniscus and demonstrate that in perfect wetting it leads to a nonlinear behavior as soon as the meniscus oscillation amplitude compares to the thickness of the boundary layer. Secondly, we investigate energy exchanges through scales occuring when a surface wave reflects on an oscillating wall, the so-called generalized Doppler effect. We evidence the creation of Doppler-shifted waves, compute their amplitudes and illustrate how the continuous bouncing of surface waves on wave-makers may lead to self-similar spectra competing with the ones of wave turbulence. Finally, we focus on nonlinear interaction between surface waves. We prove that gravity waves can undergo triad resonances in confined geometry. Going beyond the consequencies of solid boundaries, we perform experiments on four-wave interactions in the gravity regime and describe large scales in capillary wave turbulence.

Appels à projets et à candidatures

Programme doctoral «Sciences et Management» UPMC/CDI

2017-06-26




Date limite lundi 26 juin 2017 à minuit




Le Programme Doctoral PhD/MBA «Sciences & Management » s'adresse aux jeunes diplômés (masters et ingénieurs) souhaitant s'orienter vers un doctorat et vers des fonctions de management en entreprise et voulant s'y préparer par une formation à double compétence : recherche et management.
Dossier de candidature : https://www.edpif.org/documents/ dans le dossier UPMC-->SM2017


Contact : --

APPEL A PROJETS ULYSSES 2018

2017-05-16




Date limite vendredi 15 septembre 2017 à 00:00:00




L'objectif de ce programme est de développer les échanges scientifiques et technologiques d'excellence entre les laboratoires de recherche des deux pays, en favorisant les nouvelles coopérations. La participation active et la mobilité de jeunes chercheurs, en particulier doctorants ou post-doctorants, est un des tous premiers critères de sélection ; de même que des perspectives de développement ultérieur dans le cadre du programme européen Horizon 2020.

Subventions PRESTIGE pour mobilités post-doc de et vers la France

2016-11-24




The PRESTIGE programme, coordinated by Campus France, is co-financed under the Marie Curie Actions-COFUND of the FP7.
PRESTIGE is open to all scientific fields provided that each proposed research project is in compliance with the EU ethics rules. Co-financing partners may however limit the eligible scientific fields, according to their own prioritised thematic areas.